National (State Primary) Standard of Mass Unit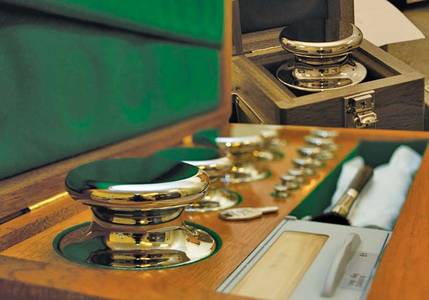 Reproduction, maintenance and transferring of the size of mass unit to
the secondary standards with the help of standard mass comparator.
The measurement standard reproduces the mass unit with the help of the material body – weights of the cylindrical shape which nominal weight is 1 kg, these weights are manufactured from stainless steel of austenitic nonmagnetic alloy. Weight No. 1 is chosen as the national prototype of the mass unit of kilogram. Reference standards – weight No. 2 and 3 – are used for transferring the mass unit to the secondary standards and for participation in the international comparisons. In order to transfer the mass unit comparators are used. They are manufactured by the firm Sartorius (Germany), they work on the basis of the method of electromagnetic compensation.
With the help of measuring instruments, entering into the composition of the national primary standard, the mass unit can be transferred in the range from 1·10-6 kg to 1 kg in accordance with DSTU 3381:2009 "Metrology. National verification scheme for measuring instruments of mass".
Metrological characteristics

Range

1 kg

Uncertainty by type A (uA)

12·10-9 kg

Uncertainty by type B (uB)

–

Total standard uncertainty (uC)

12·10-9 kg

Extended uncertainty (U)

24·10-9 kg