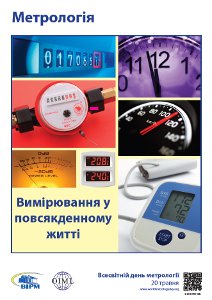 May 20 is World Metrology Day to commemorate the date of signing of the Metre Convention in 1875 is an international agreement formed the basis for the functioning of a coherent system of measurements throughout the world.
In 2013 she was elected as the theme of "Measurements in daily life". During a typical day, we constantly meet with the measurements: a testing time, buying food or goods, fueling vehicles or checking blood pressure.
These and many other human activities in daily living needs in the various measurements. Today, accurate measurements are perceived as commonplace. Not surprisingly, most people have no idea that the basis for this is a global community that specializes in metrology - the science of measurement, and provides measurements of all human activities. Each person depends on how good a job this community.
Worldwide, national metrology institutes continuously advanced the science of measurement by the development and validation of new measurement techniques, no matter what the difficulty level of their performance would not have been necessary. They also take part in the comparisons under the leadership of the International Bureau of Weights and Measures (VІRM) to ensure the reliability of measurement results in the world.
Many measuring equipment controlled by law or are the subject of regulation, for example, scales used for weighing of goods in the shops, instruments for measuring pollution and equipment used for energy metering. The International Organization of Legal Metrology (OІML) is engaged in the development of international recommendations for coordination and harmonization of requirements for these types of instruments in the world.
During World Metrology Day is celebrated the contribution of people who work hard every day for the benefit of all mankind in the inter-governmental organizations and national institution
Other information, including the treatment of directors, the message and the list of events is available online: www.worldmetrologyday.org
Contacts: wmd(at)worldmetrologyday.org