23rd meeting of COOMET President's Council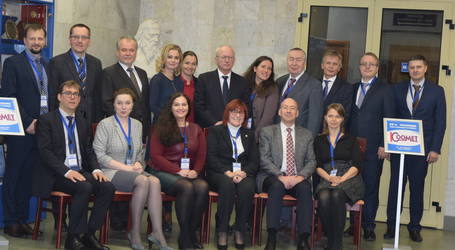 The 23rd meeting of the COOMET President's Council was held on 27–29 November 2018 in Minsk, Belarus.
The tasks of the meeting were the discussion of the measures on improvement of activities of the regional metrological organization COOMET and implementation of the Arrangement "Mutual Recognition of National Standards, Calibration and Measurements Certificates issued by National Metrology Institutes" (CIPM MRA).
Members of the COOMET President's Council, Secretary of COOMET Joint Committee of Measurement Standards, Chairperson of TC 3.1 "Quality Forum Technical Committee", representatives of National Secretariats of COOMET and PTB experts was participated in the work of the meeting.
22 issues of the agenda were considered as follows:
• discussion of COOMET's development strategy;
• on the preliminary results of the assessment by an external expert of the status of activities and perspectives for cooperation in COOMET within the framework of the project "Assistance to regional trade and support of consumer rights protection for COOMET member-countries";
• about clarification of responsibilities of COOMET Vice-Presidents;
• about of the Memorandum of Understanding in the field of the measurement uniformity assurance between the EEC and COOMET;
• about updating of the Protocol on cooperation and interaction in the field of metrology between COOMET and EASC and further actions by COOMET;
• about cooperation between COOMET and EURAMET;
• about results of the 26th meeting of CGPM;
• set of questions, related to CIPM MRA realization;
• the progress on peer reviews of the quality management systems (QMS) of COOMET National Metrology Institutes (NMI) and prospects of activity of the COOMET Quality Forum;
• results of the 53rd meeting of International Committee of Legal Metrology (CIML) and Round Table of regional organizations on legal metrology (RLMO);
• results of the meetings of TC 2 "Legal metrology" and TC 4 "Information and Training";
• discussion regarding informational resources of COOMET;
• preparation of the VIII International competition "COOMET Best young metrologist – 2019"